Things To Do At Crown Casino Perth
Following on from our moving to Australia guide. This article covers some 20 things you can do in Perth! Enjoy!
Visit Rottnest Island – Rottnest is awesome, 30 minute ferry drive and its like you're on an exotic island. Random fact: 5000 years ago you could walk there from Perth!
Visit the Crown Casino – Discover a world of entertainment at Crown Perth including a casino, two hotels, world-class restaurants and bars, a nightclub, convention centre, theatre and much more.
Visit one of the 3 amazing beaches below – There is quite a few more but we recommend checking out these first.
Scarborough Beach – Sunsets are especially amazing here
Cottesloe beach – Awesome for a Sunday session!
City Beach – Very nice.
Visit Kings Park – right above the Swan River and Perth city centre. From this perspective you can really see what a beautiful city Perth is.
Hillarys Boat Harbour – State-owned and operated Hillary's Boat Harbour has been named the best marina in Western Australia
Perth Zoo – Perth Zoo is widely known as a unique events and functions destination and can offer a host of amazing experiences.
Subiaco Oval – Subiaco Oval is a football stadium located in Subiaco, a suburb of Perth, Western Australia.
Fremantle Prison – A prison is not something you'd think of as a tourist attraction, but as anyone who's done the Fremantle Prison tour will tell you, it's so worth doing
The Art Gallery Of Western Australia – The Art Gallery of Western Australia is home to the State Art Collection and the MoMA Series. The Gallery is open every day except Tuesday.
Western Australia Museum – The Western Australian Museum is the state museum for Western Australia. It has six main sites: in Perth within the Perth Cultural Centre, two in Fremantle, and one each in Albany, Geraldton, and Kalgoorlie-Boulder
Go for a wine tour on the Swan Valley – Located only 25 minutes east of Perth, the Swan Valley is laced with ribbons of vineyards and home to over 150 places to wine and dine – including award-winning wineries and restaurants, microbreweries and distilleries.
Enjoy a FREE BBQ on most of the beach's – Literally hundreds of free BBQ cover the parks and green areas of the city. On a good day Scarborough Beach is truly amazing.
Head over to Penguin island – Located in the spectacular Shoalwater Islands Marine Park, just 45 minutes south of Perth.
Mettam's Pool – An awesome snorkeling place, crystal blue water and very safe. Just 10 mins from Scarborough beach!
Go to the Bell tower – located on Riverside Drive overlooking the picturesque Swan River is one of Perth's most unique and must see tourist attractions.
Lastly enjoy Perth's amazing sunsets! Below is a picture of a sunset from December 2013- But to be honest its like this nearly every day.
One of Perth's most popular entertainment hubs, Crown Perth, will be reopening some of its restaurant doors from Saturday, but you won't be seeing the typical Saturday night crowds gathered about the casino gaming tables.
See the highlights of Perth on a Segway tour along the city's booming and beautiful riverfront. With a knowledgeable guide, cruise along the Swan River, and check out attractions like Kings Park, Claisebrook Cove or the river foreshore, depending on the option selected when booking. By allowing you to cover more ground than a walking tour but still be outside in the fresh air, a Segway is the ideal way to explore a sunny, outdoorsy city like Perth.
What are the nearest stations to Crown Perth Casino? The nearest stations to Crown Perth Casino are: Great Eastern Hwy Before Burswood Rd is 545 meters away, 9 min walk. Burswood Stn is 661 meters away, 11 min walk. Victoria Park Dr Burswood Stn is 669 meters away, 10 min walk. Victoria Park Transfer Stn is 1060 meters away, 15 min walk.
Crown Perth is smaller then your Melbournes Crown casino but still offers all your pokies,cash games baccarat,blackjack,poker etc: The poker is not 24/7 like melbourne and i found it abit slow action tho booked a win and thats all that matters offers 1/3,2/5 stakes whilst i was there and there was alist for Plo also,monday night offers a monday night poker tournament for $120 10000 start stack with 20min blinds with $50 add on at the break,its unlimited rebuys to the break so its a donkey.
This list is only a small portion of what is available to do in Perth, think of it as your starter guide. Thanks for reading if you would like more updates please join our mailing list.
These days Perth is a far cry from the sleepy town it sometimes gets confused for. On any given day there's a new bar, restaurant, cafe or experience launching onto the scene—to the point where deciding what to do can become all-consuming.
As per usual, that's where we come in. We've already covered off the best free things to do and the best things you didn't know you could do here, but when you just want a solid day out, here are 15 of the best things to do in Perth.
#1 Spend A Day In Fremantle
The laid-back vibes of Fremantle can't be beaten, so spending a day meandering through the heritage streets is a must. Hit up the markets on the weekend for delicious local produce, the best egg sandwiches and quirky handmade goods, then cross the road to The Old Synagogue for a long and lazy lunch. Walk it off along the Cappucino Strip (South Terrace) and through Esplanade Park before a beer and some frites at Little Creatures or an all-out feast at The Sunshine Harvester Works. Once the sun has gone down you can cap off the day's adventures with a gig at Freo.Social.
#2 Soak Up The Sun At Cottesloe
While Perth is home to some incredible beaches, Cottesloe is hands down the most iconic of the bunch. She's got grass, she's got shade, she's got sand, she's got surf and she's got some killer restaurants and cafes right across the road. Walk all the way to Swanbourne along Marine Parade, take a dip among the rolling waves and grab a coffee at Il Lido. Nothing beats some paper-wrapped fish and chips on the grassy hill overlooking the water as you watch the sun go down, though.
#3 Hop On A Ferry Bound For Rottnest
You'll definitely want to avoid it during school holidays, but any other time Rottnest is an island paradise, and it's only a 25-minute ferry ride off the coast of Fremantle (90 minutes from Perth). Unless you're super short on time, a day trip won't quite cut the mustard in our books. A weekend spent among its sandy shores will see you returning to the mainland relaxed and ready to take on whatever life throws at you. There are loads of things to do, our top picks include staying in an eco tent at Discovery, snorkelling the bays, trying to nail the quokka selfie and relaxing at Karma Spa.
#4 Eat, Eat, Eat
Over the last decade, Perth has gone through a restaurant revolution. From speccy degustations at Wildflower to incredible homemade pasta at Lulu La Delizia, there's no shortage of incredible eats to uncover. Add to that the plethora of new openings shaking things up on the regular and you're never too far from your next feast.
#5 Pretend You're A Kid For A Day
There's no denying it, Perth has a penchant for kidulting. From 3D glow in the dark mini golf and spooky escape rooms to bouldering and even a drive-in cinema, you can get your nostalgia on every day of the week. One of the best ways to embrace your inner kid is at Strike Carousel. With bowling, Holey Moley mini golf, karaoke and escape rooms all under one roof, with some killer burgers, fries and boozy libations it's like a grown-up version of your favourite childhood birthday party.
#6 Explore The Beautiful Swan Valley
Packed with vineyards, orchards and providores, the Swan Valley is Perth's answer to Margaret River, only it's 30 minutes out of the city. Hop your way around the best Swan Valley wineries or set out on a trail that takes your fancy. Easily one of the best things to do in Perth, you can't miss a visit to Mason Saint-Honoré when you're in this neck of the woods. Get the macaron ice cream sandwich, trust us.
#7 Go Bar Hopping In The City
Along with the Perth restaurant revolution came some incredible bars, and now the CBD is swarming with them, be they hidden, on a rooftop or exceedingly beautiful. Kick things off in the west end with poolside drinks at Hyde Perth Kitchen + Cocktails, then hit The Flour Factory, Fleur and Foxtrot Unicorn in that order. If you're looking for a little more character on your bar hop, stroll through Yagan Square to Northbridge and you'll uncover plenty more gems (we're looking at you Mechanics Institute, Panama Social, Henry Summer and Frisk. Small Bar).
#8 Uncover Kings Park's Best Walks And Hikes
If you can tear yourself away from the sweeping views of Perth and the Swan River, you'll uncover some of the best walks and hikes at Kings Park. Law Walk gives you more incredible water views and pays you back in sweat, the Kokoda Track promises a killer glute workout, the Federation Walkway takes you over a suspension bridge and the DNA tower shows off the park, river and Rotto from 15 metres above the ground.
#9 Check Into A Luxe Hotel
Believe it or not, one of the best things to do in Perth is absolutely nothing; granted you're doing nothing in a lavish hotel that is. At this point, there's too many to pick a favourite, but you can't go wrong with one of these boutique hotels. If you're just there for the pool, check into one of these.
#10 Drive Up The Hill
Perth's Hills offer up a slice of a quieter life, and they're less than a 30-minute drive from the city. Hop in your car and drive up the escarpment until your ears have popped to uncover beautiful bush walks, cute cafes and scenic drives. Don't miss your chance to watch the sun go down and the twinkly lights of the city turn on from Lions Lookout.
#11 Test Your Balance On A SUP
SUPing (stand up paddleboarding) has fast become a favourite Perth past time, and it's no surprise given how many lovely waterways the city is flooded with. Whether it's the river or the beach (or indoors at a pool) there are loads of places to learn how to balance on one of these beastly boards. It's actually a lot easier than it looks, which is why you can even find people doing SUP yoga these days.
#12 Take It To The Rooftops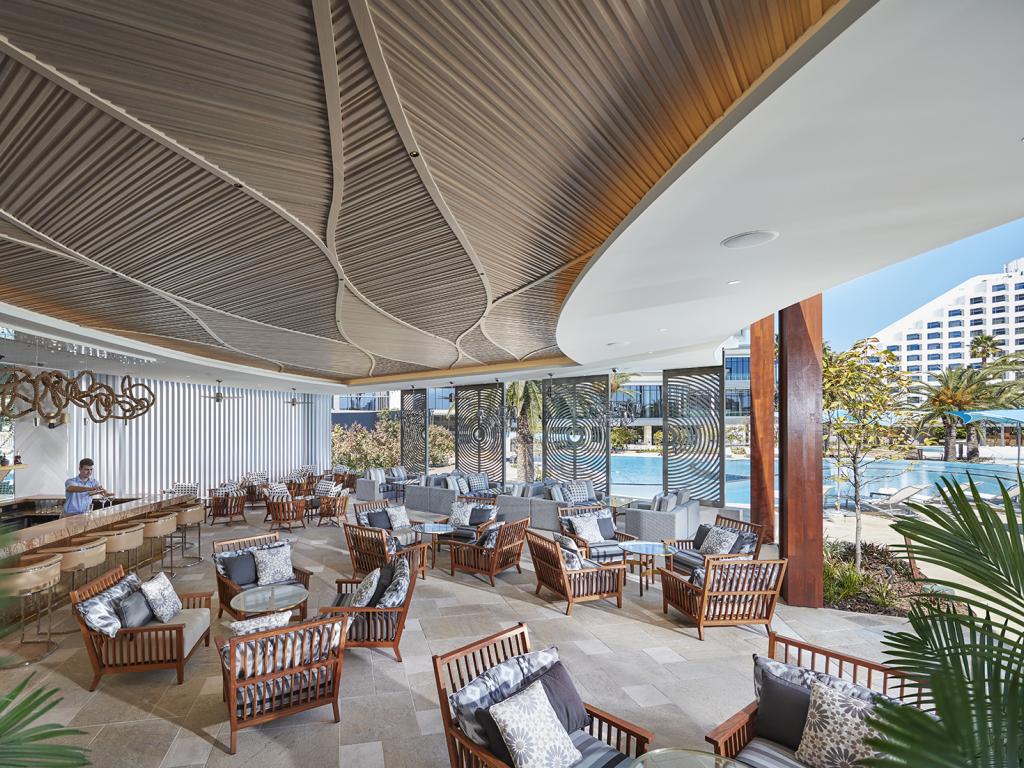 It's a fact, Perth loves a rooftop. With the amount of clear sunny days we get on the west coast, it's no surprise. From rooftop bars to rooftop workouts, getting closer to the sun's rays is now easier than ever. For a little slice of William Street's charm, we can't get enough of The Rechabite.
#13 Watch The Sunset
Watching the sunset over the ocean never gets old, and Perth offers up some pretty incredible vantage points to experience those sorbet skies. Pack a picnic and your sunglasses and head out to one of these spots to catch day turn into night. You can leave your phone in your pocket for this one because let's face it, sunsets always look more beautiful in person.
#14 Grab A Scoop At Elizabeth Quay
There are a lot of water-based activities on this list, but what's one more when we've got so many beautiful gallons on display? We'll admit that we weren't too sure about Elizabeth Quay when the plans were first released, but now that they've actualised, we're in love with the place. Grab a scoop (or two) from gelato legends Gusto, wander the walkways in the sunshine and bask in that Perth glory.
#15 Frolic In Festival Fun
Things To Do At Crown Casino Perth Scotland
Fringe World Festival is without a doubt one of the best things to do in Perth, but if it's not that glorious month between January and February you can be assured there's a fun festival around the corner. From wine, chilli, cider and pork and beer and beef festivals to film, comedy and music festivals, there's one on almost every weekend at this point. Go out and get among it.
Once you've ticked those off, find more fun things to do in Perth. Blackjack rules how to win the lottery.
Crown Casino Perth Australia
Image credit: Kat Wray, Nancy Hanna, Louise Coghill, Elle Borgward, Anna Franklyn, Sandalford